Internet banking, also known as online banking, e-banking or virtual banking, is an electronic payment system that allows customers of a bank or other financial institution to conduct a series of financial transactions through the financial institution's website Enables
What is Internet Banking?
Internet banking is a system that allows a customer to conduct financial and non-financial transactions from his net banking account. The user can transfer funds from his account to other accounts of the same bank / different bank using the website or online application. The customer uses resources and media to conduct financial transactions. The resource used by the customer can be an electronic device like a computer, laptop, or mobile phone. The Internet is the medium that makes technology possible.
With online banking, consumers are not required to visit a bank branch to complete their basic banking transactions. They can do all this at their convenience wherever they want – at home, at office, or on the go.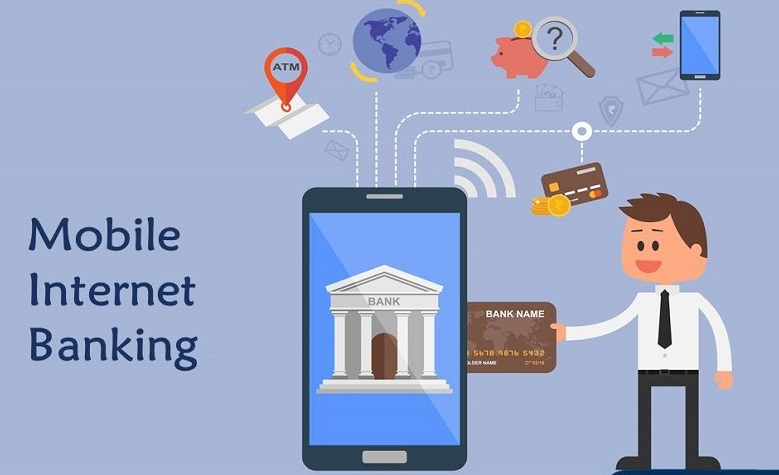 Online banking requires a computer or other device, an internet connection and a bank or debit card. To access the service, customers have to register for their bank's online banking service. To register, they need to create a password. Once they do, they can use the service to do all their banking.
Features of Internet Banking
Customers using this facility can conduct transactions and non-transactional functions, including:
Customer can view account details.

The customer can check the history of the transaction for a specified period by the bank concerned.

Banks, statements, different types of forms, applications can be downloaded.

Customer can pay any kind of bill, recharge mobile, DTH connection etc.

The customer can buy and sell on the e-commerce platform.

The customer can invest and operate the business.

The customer can book transportation, travel packages and medical packages.
Advantages of Internet Banking
Customers get permanent access to his bank anytime and anywhere.

Transactions are secure and highly secure.

Instant money transfer helps the user in times of urgent need.

This saves the user valuable time.

Whenever you withdraw money, it immediately informs you on your mobile. Because of which you can easily monitor your account.

You can do all the functions of your bank through this. As we can see the balance. You can add money to anyone's account. Also, FD, RD can also be opened and closed.
Disadvantages of Internet Banking
There is a lot of loss in the amount of profit in all work.
When net banking is required and the server is down at that time, you cannot do any work. There are many times when the connection speed is slow or the server goes down while doing any money transaction, then you may suffer a lot.

If an unknown person comes to know about your NetBanking account, then he can withdraw all the money in your bank immediately. Which can cause you heavy damage.

Net banking has now made everyone lazy. The effect of which is also seen in other works.

The bank calls Net Banking free but it is not free. When you use it, you are charged many types.
Things to keep in mind while starting internet banking –
You should always use net banking in your computer or mobile. It should not be used in any other device. This can be dangerous.

Delete the apps that do not work in the computer, mobile in which you use it. And have the right apps installed. It steals your information. Which is used incorrectly.

At the time when internet banking is not required, at that time logout the account or turn off the internet.

Do not use internet banking on cyber café or any computer outside. Also, do not use public place wifi for net banking. In such a situation, there is a risk of your account information being leaked.

Install a good antivirus in your computer, only then use net banking in it. Antivirus protects your computer from security threats like malware, phishing.
Security of Internet Banking
Financial information of a customer is important. This is why the client trusts financial institutions. Financial institutions place it on a high priority that the security of customers' accounts is not breached. Financial institutions are using two types of security methods to make internet banking secure:
PINs / TANs are used — for this system, a PIN is used to login and TANs are used to conduct transactions. TANs are one-time passwords. The TAN is sent to the subscriber via SMS on the registered mobile number which matches the login user ID. It is valid for a short time.
Internet banking is handled using web browsers with SSL enabled websites, so encryption is not an important issue. It also uses signature verification as a basis. Under this method, transactions made by the customer are digitally signed and encrypted. Smart cards or any other memory sterling medium can be used to create keys for signature creation and encryption.
What is e-banking? (What is E – Banking)
The facility of e-banking provided by banks to its customers uses the Internet as a medium. Services under this facility include money transfer, payment of bills, opening bank accounts online and more.
Features of E-Banking
ATM – The full name of the ATM is Automated Teller Machines. These machines are truly electronic terminals that banks provide to customers anytime. ATM machines take input from ATMs that banks provide to their customers. To use an ATM, the user must have a password. If banks transact with the ATM machine of another bank, the bank charges a nominal fee from the customers for every transaction made after crossing the specified limit of free transaction.
Deposits and Withdraws (Direct) under e-banking – This service allows the customer to approve regular paychecks in the account. The customer can pay the bank to withdraw money from his account, any kind of installments, insurance payments and many more to pay the bills.
Payment by phone system – This service allows the customer to request for any bill payment or contact their bank to transfer money to another account.
Point-of-sale transfer terminal – This service allows customers to pay instantly via debit / credit card.
Functions of Internet Banking
With e-banking, you can send money from one account to another's account.

Get information about your account balance from e-banking

View bank statements of your bank account transactions with the help of e-banking.

Make stock market and other investment investments online

Booking bus, rail and other tickets via internet

Make your tax online

Filling the form for online DD demand draft

View details of your loan and other accounts.

Buying life insurance, auto insurance and other banking services and products online.

Can open a new FD or other account.

Paying to buy goods online